Bookmarks

These bookmarks have been very popular as gifts. The front features a masterpiece painting stamp from around the world, with the recipient's name written in 19th century Spencerian script, with borders and embellishments. The reverse shows the name of the sender of the gift. The letters are written using black ink hand-made from Japanese Volcanic Ash dating back to the 19th century, highlighted and underlined with gold ink made from 24K coins ground with bronze ink. The paper is a soft ecru from Crane, and it is laminated for stiffness and protection. It is all topped off with a knotted, colorful, French silk tassel attached to one corner. These make perfect graduation gifts, or party favors.
See some bookmarks in detail here.
Private Letters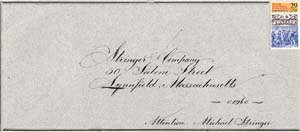 Many people, for many reasons, have asked Mr. Burns to write letters for them. You would, of course, provide the words, but Mr. Burns puts them to paper in the most beautiful form possible, making your missive into a work of art. Everyone who receives such a letter is touched by the thought and care that went into creating it, and they become treasured possessions.
Naturally, none of the letters are reproduced here, but you can see several examples of the envelopes in which such letters would be sent.

Birth Certificates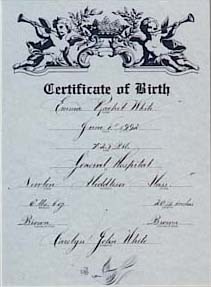 Celebrate that all-important moment with a beautifully engraved, engrossed and framed birth certificate. Mr. Burns designed this 8" x 10" certificate and will write your child's name and particulars on it. He will also have it elegantly framed for you.
Learn more about the birth certificates here.